Gershwin Piano Quartet
Nik Bärtsch Composes For The Piano Gershwin Quartet
The Swiss Nik Bärtsch is a fixture in Switzerland`s musical life, some may know him from the Zen funk he founded, perhaps from his band Ronin. Bärtsch is also a producer, club owner, father of three and: he is a composer.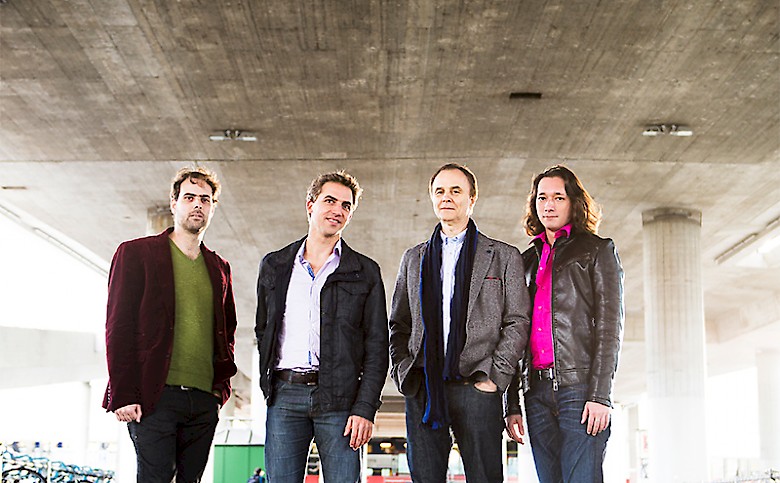 Over 20 years ago, he co-founded the Gershwin Piano Quartet, which has since filled concert halls around the world. Bärtsch no longer plays today, but he has dedicated a composition to his loved quartet that will be premiered on February 7th in the Tonhalle Maag: the work is simply called «352» for four pianos.
What challenge do you think is the greatest when it comes to composing for four pairs of hands? «Avoiding duplications,» he says. Sound can cancel each other out. It is important to work out what only eight hands are capable of doing. Bärtsch also sees the piano strongly as a percussion instrument. He experiments with sound in space: «What is important for me is the environment in which the composition will be performed. The Tonhalle Maag with its warm but precise sound is ideal for this formation.»
So the formation he had been part of for a decade now performs his music for the first time. Bärtsch composed for friends this time. He raves about their deep understanding of the «fruitful coexistence of composition, interpretation and improvisation.» He wants to uphold their own idea of ​​the work as well as his idea of ​​it. For Bärtsch, making music is like dancing. A language that should not simply serve an end in itself, but should serve communication. «Music is never without a counterpart,» he says - the counterpart in the Tonhalle Maag, the audience of the Gershwin Piano Quartet has good reasons to be excited.