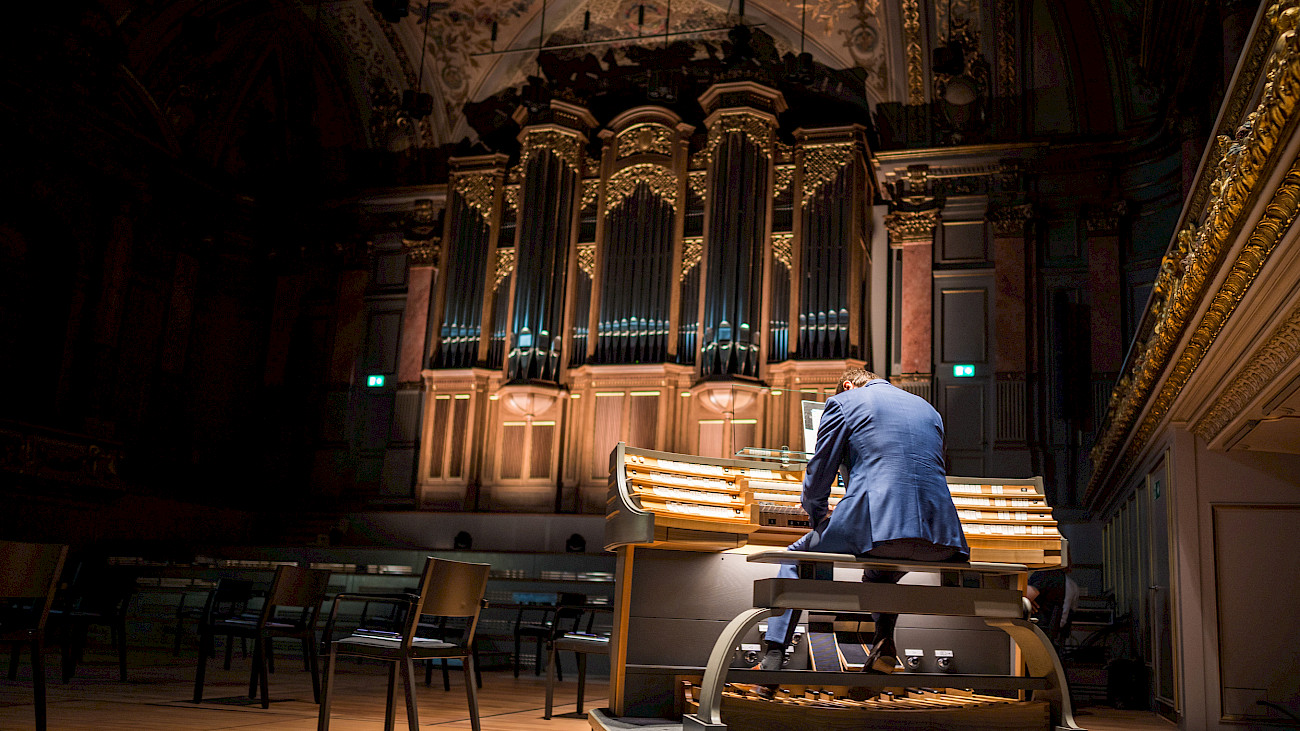 International Organ Days Zurich - Space Night
International Organ Days Zurich - Space Night
Klaus Schwärzler
Marimba & Perkussion
Benjamin Forster
Pauke & Perkussion
Lukas Schrod
Perkussion
Christian Schmitt
Orgel
Thomas Ospital
Orgel
Reinhard Geller
Video- und Licht-Installationen
Erster Teil (Christian Schmitt, Klaus Schwärzler und Benjamin Forster)
Sofia Gubaidulina
«Detto I» Sonate für Orgel und Schlagzeug
Minoru Miki
«Marimba Spiritual» für Marimba und Schlagzeug
Johann Sebastian Bach
Passacaglia und Fuge c-Moll BWV 582 für Orgel
Maximilian Schnaus
*signals (from remote territories)* Konzert-Etüde für Pedal solo – Uraufführung
Modest Mussorgsky
Aus «Bilder einer Ausstellung» (Bearbeitung für Schlagzeug und Orgel von Benjamin Forster, Klaus Schwärzler und Christian Schmitt)
«Promenade»
«Bydlo»
«Die Hütte der Baba Yaga»
«Das grosse Tor von Kiew»
–
Zweiter Teil (Thomas Ospital)
Maurice Ravel
«Ma Mère l'Oye», cinq pièces enfantines (Transkription für Orgel Thomas Ospital)
«Pavane de la Belle au bois dormant»
«Petit Poucet»
«Laideronnette, impératrice des Pagodes»
«Les entretiens de la Belle et de la Bête
«Le jardin féerique»
Thierry Escaich
«Evocation IV» für Orgel
Thomas Ospital
Improvisation-Suite über «The Planets» für Orgel mit Live Media Art
Mars
Venus
Merkur
Jupiter
Saturn
Uranus
Neptun
Unterstützt vom Verein Freundeskreis der neuen Zürcher Tonhalle Orgel
Unterstützt von der Accordeos Stiftung
Unterstützt von der Stiftung SYMPHASIS, Zürich

Space Night quickly became a cult: at raves in the mid-1990s, it was not uncommon for TV screens to show images of Space Night. After the early morning raves, Space Night was and is often used to chill out. We bring space images with improvisations about planets onto the stage and immerse both the hall and the new organ in "spacey moods".
The International Organ Days were conceived by concert organist Prof. Christian Schmitt, in consultation with Dr. Hans-Peter Fricker, President of the Friends of the new Zurich Tonhalle organ. They will be curated by Christian Schmitt and Prof. Tobias Willi in 2023.
Order your organ pass for all five concerts here
Find out more about the Organ Days here.