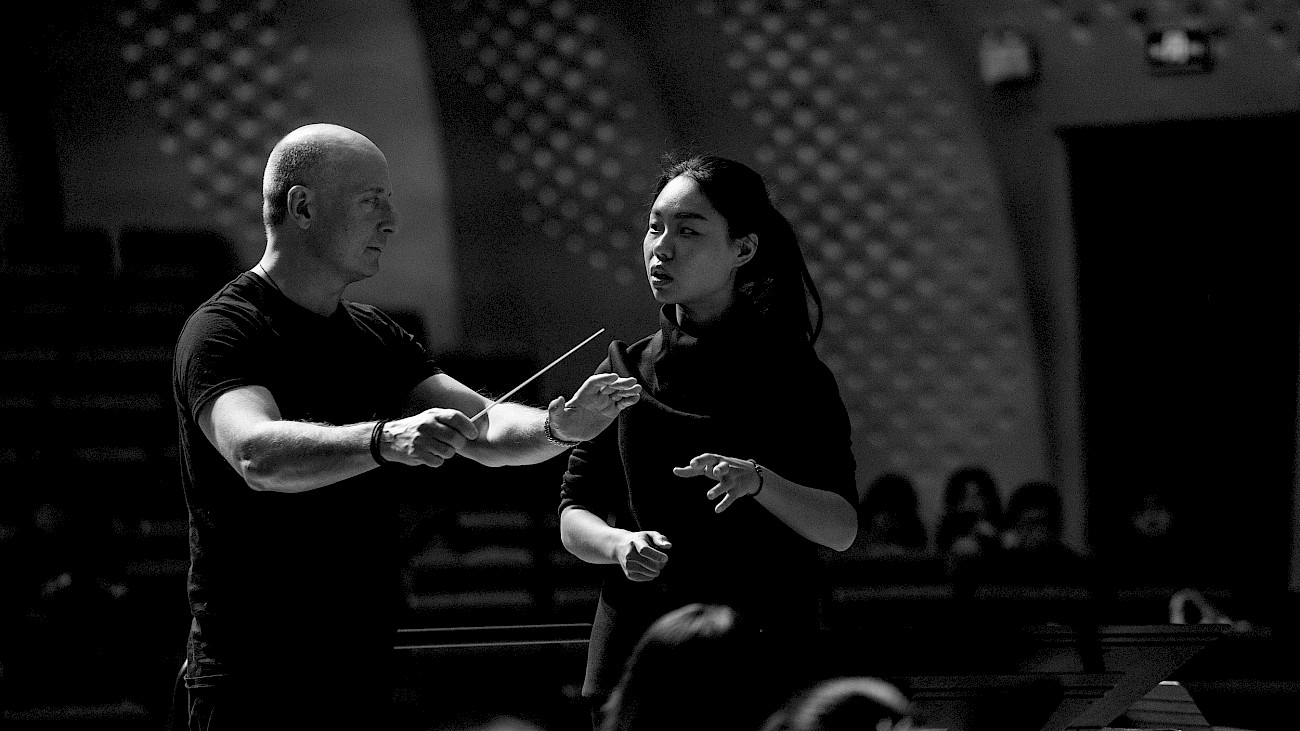 Abschlusskonzert Conductors' Academy
Abschlusskonzert Conductors' Academy
Tonhalle-Orchester Zürich
Paavo Järvi
Music Director
Peter McGuire
Violine
Paul Handschke
Violoncello
Anthony Fournier
Dirigent
Aivis Greters
Dirigent
Zofia Kiniorska
Dirigentin
Liubov Nosova
Dirigentin
Yerry Park
Dirigentin
Janne Valkeajoki
Dirigent
Andrea Thilo
Moderation
Auswahl aus folgenden Werken:
Carl Maria von Weber
Ouvertüre zu «Der Freischütz» op. 77
Antonín Dvořák
Sinfonie Nr. 6 D-Dur op. 60
Béla Bartók
4. Satz Intermezzo interrotto aus «Konzert für Orchester» Sz 116
Josef Strauss
«Sphärenklänge», Walzer op. 235
Ludwig van Beethoven
Violinromanze Nr. 2 F-Dur op. 50
Gabriel Fauré
Elegie c-Moll op. 24 für Violoncello und Orchester
The purpose of the Conductors' Academy is to promote young conducting talent and to pass on knowledge and skills to the next generation.
Every year, six participants from all over the world are given the opportunity to learn from Music Director Paavo Järvi and his work with the Tonhalle-Orchester Zürich. They work intensively on their technical skills and at the same time gain insight into the management of a concert hall and orchestra.
In the closing concert, each individual candidate conducts a piece and is able to demonstrate his*her acquired skills. And that's not all: this year there is a jury prize and an audience prize to be won again.
The closing concert will also be livestreamed here.
The winner of the jury prize will be invited by Paavo Järvi to participate in the Pärnu Music Festival 2022.
The audience in the concert hall and at home can also decide directly and choose the audience winner after the closing concert. The audience prize is CHF 1'000, sponsored by the Freundeskreis Tonhalle-Orchester Zürich.
Supported by the Freundeskreis Tonhalle-Orchester Zürich – exclusive project partner
Board and lodging of the academy members supported by Ruth Burkhalter