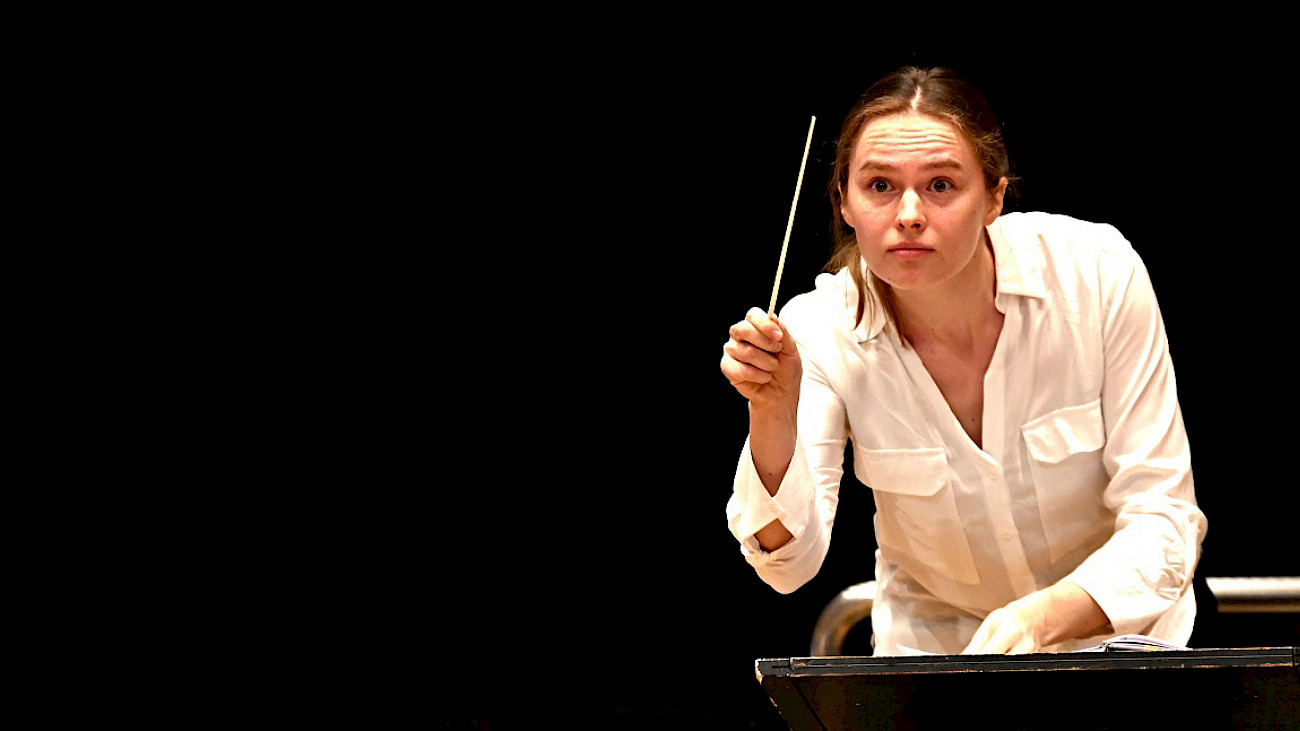 Izabelė Jankauskaitė – Assistant Conductor 2022/23
Izabelė Jankauskaitė started out as a choral conductor – and is now Paavo Järvi's assistant.
This season, the young Lithuanian conductor Izabelė Jankauskaitė will be supporting our Music Director Paavo Järvi as his assistant. Their close collaboration will offer her a unique opportunity to consolidate what she has already learnt. Engaging with musicians and management provides new insights into a cultural institution. Jankauskaitė will conduct the family concert entitled «Deine Freunde aus der Ferne» (Your friends from afar), featuring music by Toshio Hosokawa, on 8 January.
Born in Vilnius, Izabelė Jankauskaitė has already been active in Switzerland for some time. After training at the M. K. Čiurlionis School of Art in her hometown, she completed her studies at Zurich University of the Arts (Zürcher Hochschule der Künste). She started off in Beat Schäfer and Markus Utz's choral conducting class, later changing to Johannes Schlaefli's conducting class. She has conducted the Johanneschor in Mellingen and the Stadtsänger Winterthur since 2019.
In the summer of 2021, she attended Paavo Järvi's conducting course in Pärnu. She has also completed workshops and master classes with James Lowe, Rodolfo Fischer, Raphael Immoos, Anders Eby and Jeffrey Domas. During her studies, Jankauskaitė conducted such ensembles as the Göttinger Symphonieorchester, the Südwestdeutsche Philharmonie Konstanz, the Sinfonie Orchester Biel Solothurn, the Collegium Musicum Basel, the Philharmonie Baden-Baden and Musica Viva Schweiz.
Izabelė Jankauskaitė won first prize at the 2017 Jonas Aleksa Choral Conducting Competition.
January 2024
Family Concert: Cinderella
Tonhalle-Orchester Zürich
,
Izabelė Jankauskaitė
Conductor,
Sara Taubman-Hildebrand
Erzählerin,
Mitglieder des Junior Balletts Zürich
,
Filipe Portugal
Choreografie,
Eva Zmekova
Assistenz Choreografie
Cinderella