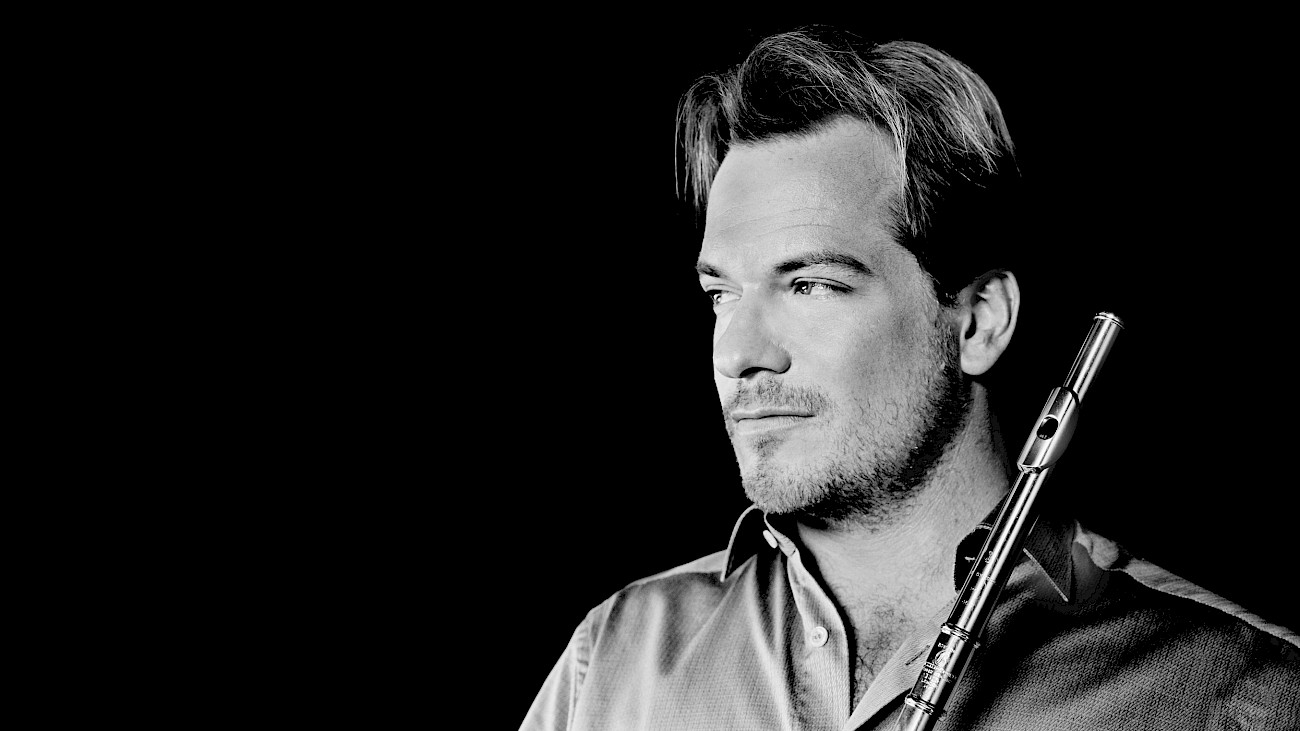 Season 2022/23
Emmanuel Pahud
Flute / *1970 Geneva
Flautist Emmanuel Pahud will be one of our two Focus Artists (Fokus-Künstler) in the 2022/23 season. And he is driven by the double life that he leads.
Emmanuel Pahud is a real «workhorse». He gives an average of 160 concerts a year on his 14-carat transverse flute: 90 solo or chamber music concerts and 70 concerts as a member of an orchestra. For he is both an outstanding soloist and the solo flautist of the Berlin Philharmonic – and has been since 1993. He likes to «juggle everything by turns»: «I am always gripped by music in the orchestra, but in a solo concert, one is responsible for the music oneself.»
Global citizen
The Geneva-born musician is always on the road, and that is the way it has always been. Travelling was part of his life from birth. As his father worked for an American company, the family moved frequently. Geneva, Bagdad, Paris, Madrid, Rome, Brussels, Basel, Munich – Emmanuel Pahud called all these cities home at one time or another. During his time in Rome, when he was four years old, he heard the warm sound of the flute for the first time: overhearing the boy next door playing Mozart's Flute Concerto in G major KV 313, he felt as if he had been «struck by lightning.» From then on, the flute was to become his «most faithful companion» – and the boy next door his first teacher.
Musical «chameleon»
After his studies, Pahud was initially employed as a solo flautist with the Radio-Sinfonieorchester Basel and the Munich Philharmonic before becoming solo flautist and youngest member of the Berlin Philharmonic in 1993 at the age of 22 under Claudio Abbado – the ensemble's «most flute-friendly» Chief Conductor, according to Pahud. With the exception of an 18-month hiatus, he has been playing there ever since. Shortly after taking up his position, he also launched his solo career. Pahud's success rests not only on his technical brilliance, but also on his musical versatility. Accordingly, his artistic credo is to «adapt to the colours of the music or the composer's ideas like a chameleon.»
Always pushing the limits
Does he have time to catch his breath? He doesn't need it. And it wouldn't suit his character at all. If he had not become a musician, he would have been a racing driver or skier, says Emmanuel Pahud. «Always just about to lose control! That's the ultimate.»
And what might such a globetrotter have been doing these past two years, when the Corona virus silenced the world's concert stages? Of course: practising, practising, practising. He is driven by his curiosity for rarely performed and new repertoire. World premieres such as flute concertos by Toshio Hosokawa and Erkki-Sven Tüür are eminently suitable for his programmes.
Furthermore, Emmanuel Pahud is also devoting more of his time to training the next generation of flautists. The «Ambassador of the Flute» currently has about 20 such projects on the go. All this makes him a wonderful ambassador for his instrument.