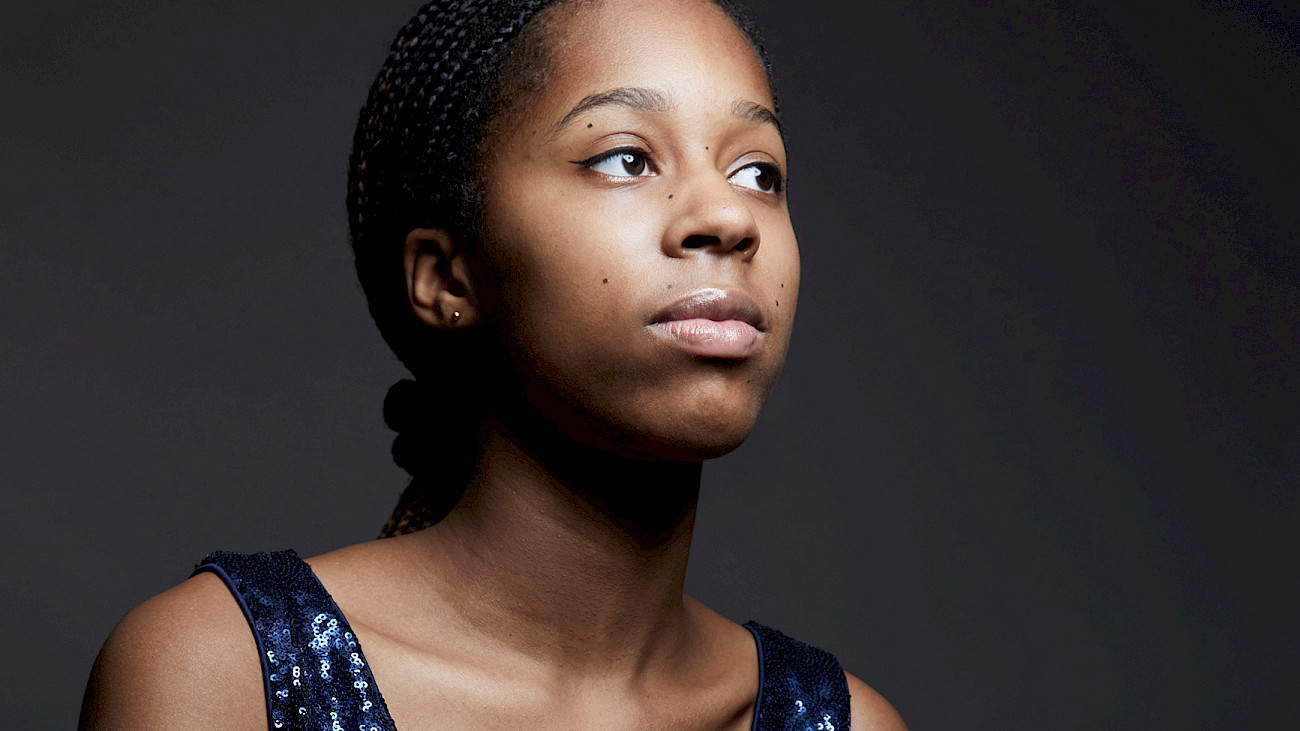 Série jeunes
Fifth Child, Third Solo Career
The name Kanneh-Mason stands for musical talent and for a family that pulls together. Now Jeneba introduces herself to the Zurich audience.
«I wanted four children and Stuart wanted three children.» That was initially the arrangement between Kadiatu Kanneh-Mason and her husband, which she reports on in Catharina Kleber's documentary «7 Leben für die Musik». Four plus three makes seven, and the couple had seven musically exceptionally talented children. Their son Sheku was the first to be catapulted into the limelight in 2018 when he played the cello at the wedding of Meghan Markle and Prince Harry. Two months before that, he made his debut with the Tonhalle-Orchester Zürich. The eldest daughter Isata introduced herself to Zurich audiences as a pianist in 2022. And now the 20-year-old Jeneba is the next pianist from the family to perform with us, in the discovery series Série jeunes, with a virtuoso programme between Russian and German piano schools.
Music as a bracket
In an interview by Bloomberg Equality Summit, mother Kadiatu told us that music is a very good parenthesis to keep the family of nine going: Everyone shares the same passion, the older ones teach the younger ones, and cultural education has always been important to her as a former academic.
The family lives in Nottingham, central England, and when the children's talent emerged, lessons in London were on the agenda. In the most intense times, father Stuart or mother Kadiatu would take the train to London at six in the morning on weekends with five children and the train back in the evening.
Concerts plus studies
Affectionate caring, comradeship, friendliness and respect are basic values among the Kanneh-Masons. In her award-winning book «House of Music», Kadiatu Kanneh-Mason tells how these values developed and what the cultural background of the family is. But it is also an account of how in Great Britain, as a person of colour, one has to work especially hard for one's goals and summon up an enormous will.
Jeneba is the fifth child and the third musician in the family to start a solo career. She is already busy - the night before our interview she played live on BBC Radio 3 in prime time, two days later she gave a concert somewhere in England. In between, she talks about herself and her plans: «I really like playing for different people and always exploring new repertoire.» Besides concerts, her focus is on her piano studies at the Royal College of Music in London. When asked about having to assert herself with seven talented siblings, she replies, «We do have different interpretive ideas, that's what makes us individuals.» She feels that her career highlight so far was her debut at England's most prestigious music festival, the BBC Proms. There she performed in 2021 with the Chineke! Orchestra, which features only Black and ethnically diverse classical musicians.
Shortly before her Zurich debut, she has a family project lined up: «My father's parents are from Antigua, I have relatives there, and we will be making music with a youth orchestra. So it's a mixture of holiday and work.» And what happens next? You can quote mother Kadiatu again on this: «In our family, we all do everything at the same time. But we try to take everything day by day. Otherwise you would die from stress.» Perhaps the secret of this family lies in this spirit?
Translated with DeepL.com